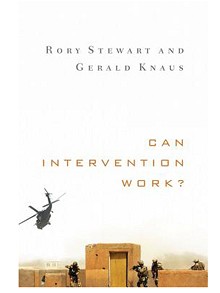 'I devoured this brilliant Burkean tract at a sitting. Is it too much to hope that it will be read not just in Downing Street and the Foreign Office, but also the State Department and the White House?' Peter Oborne, The Telegraph.
In "Can Intervention Work?", Rory and Gerald Knaus tackle the question of when and how foreign interventions can yield positive results. Drawing from their remarkable firsthand experiences in the military, in international and non-governmental organizations, and in the Iraqi provincial government, they uncover the real lessons of the Balkan intervention of the 1990s, and the disastrous campaign in Afghanistan, as they dismantle the one-size-fits-all models of intervention that have guided us until now. From Bosnia to Libya, Can Intervention Work? shines a light on what works and what doesn't when we try to do good abroad.
To purchase a copy of this book please click here.