RORY SHOWS SUPPORT FOR NEW DEMENTIA SUPPORT GROUP
14/02/2019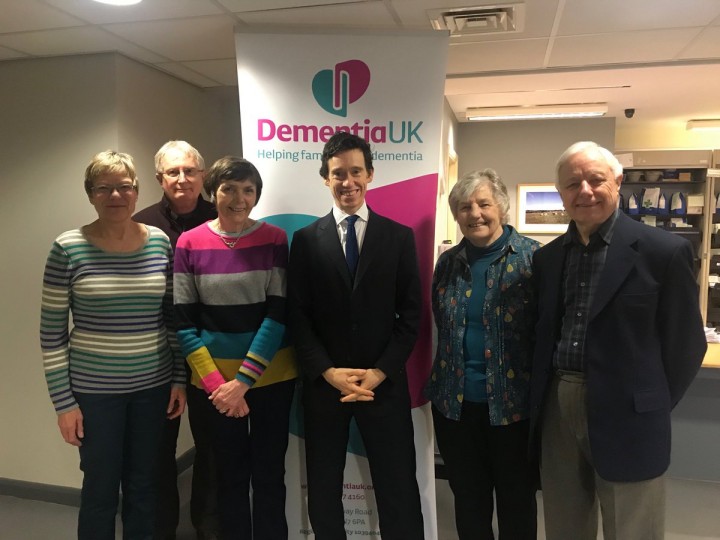 Rory is encouraging people to get behind a new dementia support group launched in Eden.
The Eden Valley Friends of Dementia UK became an official Dementia UK fundraising group at the beginning of February. The group's aim is to raise £50,000 to pay for an Admiral Nurse in Cumbria.
Fran Flower, of Culgaith, was inspired to set up the group as she is determined to get an Admiral Nurse in Cumbria. While caring for her husband, John, near the end of his life, Fran found Dementia UK's Admiral Nurse Helpline invaluable. She received practical advice and suggestions for her husband's treatment but most of all, they gave her support and calming reassurance.
The Eden Valley Friends of Dementia UK has now set about fundraising with gusto. On Saturday, March 2nd, they are holding a Dementia Awareness Day at Langwathby Village Hall. Everyone is welcome at the event which will run from 10.30am until 3pm. There will be homemade cakes and soup available.
Mr Stewart and the Dementia Group met at Temple Sowerby Medical Practice to discuss how caring for loved ones can affect families and friends and how an Admiral Nurse could make a real difference.
After the meeting, Mr Stewart said: "Throughout my constituency people are affected by dementia – whether suffering from it themselves or caring for a loved one who is. And for those carers, it can be incredibly tough.
"It was fantastic to meet Fran and her team who are so determined to make a difference to people's lives – it would be great to have an Admiral Nurse in Cumbria.They have my full support and I hope many other people will also get behind them."